Molybdenum mandrel for sapphire crystal furnace is made of the molybdenum powder FMo-1 raw materials to add rare earth materials. The processes include mixing, shaping, contouring, and high-temperature sintering processes processing, and the finished product density is ≥ 9.4g/cm3.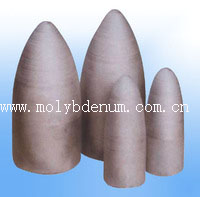 Specification of molybdenum mandrel: Φ20-300mm, and can be made according to customer's requirement. Molybdenum mandrel is mainly used for perforated stainless steel, drill steel, bearing steel and high-temperature alloy steel seamless steel pipe, hot-rolled seamless pipes in the harsh environment of high temperature for the kinds of material perforation work
If there is any other question refer to tungsten and molybdenum for sapphire growth furnace, please feel free to contact us through the following methods.
Email: sales@chinatungsten.com
Tel.: +86 592 512 9696/ +86 5925129595
Fax: +86 5925129797