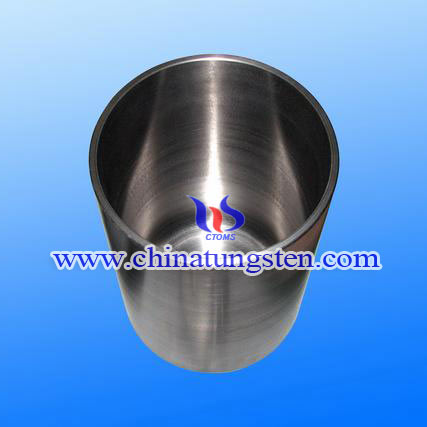 Tungsten crucible used in sapphire growth furnace is one of important tungsten products. Tungsten crucible can be divided into sintering crucible, pressing crucible and swaging crucible according to its different processing method. Sintering and welding tungsten crucible can be made in big size, but forging one or making from tungsten rod, the size is much smaller. No matter which processing method, its high temperature resistance is still remained and it can working under 2600℃.

Tungsten crucible is made of tungsten, so it owns the common properties of tungsten material, high melting point, high boiling point, high temperature resistance, high corrosion resistance, high thermal conductivity, and low coefficient of thermal expansion. Therefore, tungsten crucible is widely used in rare earth smelting, quartz glass, electron coating and sapphire growth industry. The manufacturing process of tungsten crucible is pressing tungsten powder into crucible shape, sintering, surface treatment, inspection and packing.

Dimensions of tungsten crucible are as following:
Commodity

Diameter
(mm)

Height
(mm)

Thickness
(mm)

Surface Condition
(um)

Sintering

10~500

10~750

8~20

<3.2

Machining

10~450

10~550

7~18

<3.2
It is because of tungsten's high melting point that it has been chosen as inter carrier for sapphire growth furnace, and been the core part of thermal field. The working temperature for sapphire growth should be over 2000℃, and tungsten can work smoothly and functionally under such high temperature. The requirements for tungsten crucibles is also very rigid, high purity, high density, no cracks, accurate dimensions, smooth inner wall, ect. If there is one of them is influenced, then the quality of sapphire would be impacted a lot. Therefore, the quality of tungsten crucibles has been very significant.
Email:sales@chinatungsten.com
Tel.:+86 592 512 9696
Fax:+86 592 512 9797